Principal's Welcome
Welcome to UTC Leeds, the first University Technical College in the Leeds area. Based in the growing educational hub at Leeds South Bank, UTC Leeds is an exciting new type of school created to teach students a range of scientific and technical skills to prepare them for a challenging, stimulating career in engineering and manufacturing.
I am delighted that you are thinking of joining us. At UTC Leeds you will be able to pursue your interests in science and engineering by studying highly regarded technical qualifications alongside a traditional range of GCSEs and A Levels. Our state-of-the-art of facilities, expert teachers and employer partners will allow you to experience the best quality academic curriculum alongside industrystandard vocational training.
In partnership with University of Leeds, our main sponsor and one of the world's leading universities for engineering and technology, we will help you to gain the academic qualifications needed to progress to university or a high-level apprenticeship. At the same time, our extensive links to industry will enable you to develop the skills and attributes that employers seek.
This combination of academic excellence and employer-led learning will ensure that you can compete in the job market, making you stand out from the crowd as you take your first steps into your chosen career. However, our concern is not just your career; the whole experience of UTC Leeds is designed to enable you to thrive, make a valuable contribution, and pursue your dreams and ambitions.
We welcome any queries you may have. Please don't hesitate to contact me directly or attend one of our open evenings where a member of the team will be available to talk through our curriculum and facilities on offer. I very much look forward to meeting you.
MARK KENNEDY, Principal
Mark leads on the development of the college curriculum with a focus on science, technology, engineering and maths-related (STEM) subjects, providing students with a combination of vocational and academic education to prepare them for careers in engineering and advanced manufacturing.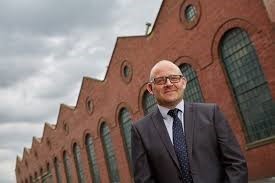 He plays a key role in building partnerships with local employers and student recruitment.

Mark joined UTC Leeds after two years helping to establish and develop the UTC in Bristol where he worked with the senior leadership team, partners from education and industry, including Rolls Royce and Airbus. During his time there, the UTC at Bristol was singled out by Ofsted as 'fast becoming a centre of excellence'.

Mark is an engineering graduate who has taught physics throughout his career and has a successful track record in secondary education, with 20 years' experience. He has spent the last ten years in senior positions in schools across the South West of England.