Principal's Welcome
Welcome to UTC Leeds, the first University Technical College in the Leeds area. Based in the growing educational hub at Leeds South Bank, UTC Leeds is an exciting new type of school created to teach students a range of scientific and technical skills to prepare them for a challenging, stimulating career in engineering and manufacturing. I am delighted that you are thinking of joining us.
At UTC Leeds you will be able to pursue your interests in science and engineering whilst also studying for the traditional range of GCSEs. Our state-of-the-art facilities will allow you to experience the best quality academic curriculum alongside industry standard vocational training. Our students will gain the academic qualifications needed to progress to higher education or high-level apprenticeships, while our close links with industry ensure our employer partners play a full role in ensuring that the skills and attributes developed by our students are directly transferable to their future career. This combination of academic excellence and vocational training will ensure students can compete in the job market, making them stand out from the crowd as they take their first steps into the professional engineering world.
The manufacturing and engineering industry continues to thrive today and provides an exciting and rewarding career with starting salaries upon graduation over £25,000 a year and 85% of graduates entering paid work or further study six months after graduation*. Employer demand for skilled workers is also on the increase with the need for engineering apprentices and graduates expected to double over the coming years, offering our students a multitude of varied and challenging career opportunities.
We appreciate what a big decision it can be choosing to attend a college at age 14 and welcome any queries you many have. Please don't hesitate to contact me directly or attend one of our local events where a member of the team will be available to talk through our curriculum and facilities on offer. I very much look forward to meeting you.
MARK KENNEDY
Mark leads on the development of the college curriculum with a focus on science, technology, engineering and maths-related (STEM) subjects, providing students with a combination of vocational and academic education to prepare them for careers in engineering and advanced manufacturing.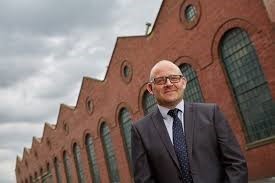 He has a key role to play in building partnerships with local employers and student recruitment.

Mark joins UTC Leeds after two years with the UTC in Bristol where he worked with the senior leadership team, partners from education and industry, including Rolls Royce and Airbus, to establish and develop the college which was recently singled out by Ofsted as 'fast becoming a centre of excellence'.

Mark is an engineering graduate who has taught physics throughout his career and has a successful track record in secondary education, with 20 years' experience. He has spent the last ten years in senior positions in schools across the South West of England.