RocketsWeek comes to an end
RocketsWeek comes to an end
1 December 2017 (by admin)
RocketsWeek comes to an end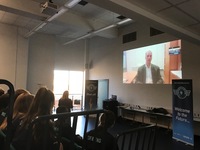 And to finish off a special guest.
Deputy Director, Engineering Directorate at NASA Langley
Frank is presently the Deputy Director, Engineering Directorate at NASA Langley Research Centre. He's an executive leader with over 25 years experience leading advanced engineering development and scientific research and is deeply committed to the individual growth of a technical workforce. Frank started working at NASA in 1986 and has a career's worth of experience across many sites under a broad engineering remit.
His particular skills cover engineering program management, communications, leadership skills and team development and performance and risk management and he regards himself as an analytics based problem solver.
Frank will be joining us via live satellite link up from Langley to discuss a variety of engineering issues with our students and hold a question and answer session, ably assisted by his friend and colleague Amber, who is with us for most of the week. On a personal note I can only gaze in awe at his career history and we feel truly blessed that he is making time to join us and share some of his experiences.