UTC LEEDS GOVERNING BODY
Our Governors provide support and guidance. They come from a variety of backgrounds and through their expertise assist the school in delivering its vision. The governing body will meet 6 times per year. There will be 2 sub committees, they are Resources and Standards.
Governors have no relevant Business and Pecuniary Interests to declare.
Mark Goldstone
Head of Business Representation & Policy
West & North Yorkshire Chamber of Commerce
(Chair of Governors)
Simon Nadin
Siemens
Professor Elaine Martin OBE
Head of School of Chemical and Process Engineering
University of Leeds
Fay Best
Developer, Trainer, Facilitator for STEM & Gender Equality Projects.
WISE Women in Science, Technology & Engineering
Richard Amos
Sufficiency and Participation Lead, Senior Partnership Manager
Leeds City Council
Graham Cooper
Site Manager
AGFA Graphics - Leeds
Grant Rudloff
Chartered Accountant
Auker Rhodes Professional Services
Mark Kennedy
Principal
UTC Leeds
Gina Glendinning
Parent Governor
UTC Leeds
Tim Craven
Governor
UTC Leeds
Victoria Slater
Leeds City College
Victoria Hopkins
Hopkins Catering
Iain Barcley
Parent Governor

Ken Hall
Education Consltuant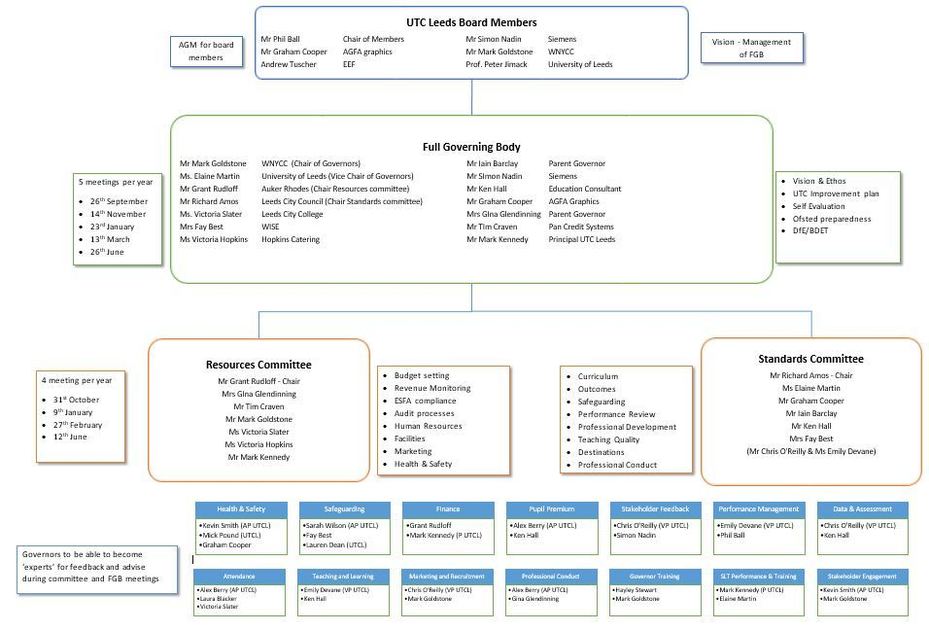 MEMBERS
The Members of the Academy Trust are as defined in article 12 in the articles of association :-
Mr Philip Ball - Chair of Academy Trust appointed 09.10.2014
Mr Graham Cooper - Also Governor of UTC Leeds appointed 09.10.2014
Mr Simon Nadin appointed 09.10.2014
Mr Mark Goldstone - Chair of UTC Leeds Board of Governors appointed 13.04.2016
Andy Tuscher - Regional Director EEF
Professor Peter Jimack, Dean - Faculty of Engineering, University of Leeds
The Members of the Academy Trust have an overview of the governance of the UTC and can appoint and remove Members and Governors.
To contact our Governors please email enquiries@utcleeds.com or phone 0113 353 01340