Tim Gregory
Tim Gregory
30 November 2017 (by admin)
The arrival of Tim Gregory has sparked great excitement amongst the students this morning.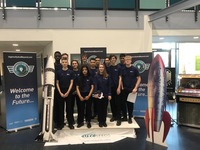 University of Bristol and BBC Astronaut Candidate
Tim used to dream about a career in space when he was little, and he's still pursuing that dream today, studying for a PhD in Cosmochemistry at the University of Bristol.
He's also found time to qualify for, and compete in the recent BBC show Astronauts: Do You Have What It Takes? and as you may already know did really, really well.
It was by all accounts a gruelling application process, with health and fitness checks, lots of teamwork and planning and many, many interviews to check his suitability. Then the fun really started – helicopter flying,virtual docking simulations, mental acuteness testing, claustrophobia and of course the centrifuge.. the list is endless. And he's coming to see us here at UTC Leeds to tell us all about it!