Incoming: The Next Instalment of Ingenuity & Beyond
Incoming: The Next Instalment of Ingenuity & Beyond
27 February 2018 (by Sero Creative (SeroCreative))
UTC Leeds students are powering up for the next instalment of our exciting Ingenuity and Beyond series: Robots.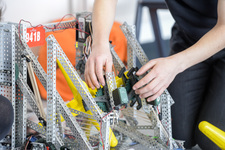 With the robotics industry booming, and advancements in artificial intelligence happening every day, many believe it won't be long until robots are part of our everyday lives.
Robots Week at UTC Leeds from 5th to 9th March will bring robotics, technology and engineering experts to our students for a series of talks and hands-on workshops to find out about these exciting developments. Students will explore robotics in many different aspects of life from medicine to the military, as well as taking part in virtual and augmented reality workshops, and much more. Industry experts include, Dr Charles Fox, Director of Ibex Automation Ltd, Steve Banton, Robotics Account Manager at ABB UK Ltd, Rashik Parmar MBE, IBM Distinguished Engineer, Rob Fieldsend, Director at 4B Braime Components. Academic experts are also speaking from University of Leeds, Leeds Beckett University, University of Bradford and University of Lincoln.
During the week, there will also be an open event for prospective students to come and view our fantastic facilities and find out more about UTC Leeds, you can book your place by visiting the Events section of our website.
Parent and local businesswoman Jacky Moss is the driving force behind the event and has helped to create and organise it for the UTC. Jacky said: "As both a parent of a Year 12 student and a huge advocate of all things STEM, it made sense to put together a programme for our students here at UTC Leeds that would educate, motivate and inspire them."
She added: "I believe the combination of fun activities, full-on science and the plethora of outreach and curricula activities we've sourced will do just that. It's so important for the students to believe in themselves, understand their own capabilities and go one step further to be the best that they can be by taking advantage of as many of the options we can offer as possible. We're looking forward to their feedback on this event and planning the next in the series."
For more information and to view the full timetable for the event please visit: www.ingenuityandbeyond.com