Meet Head of Engineering and Assistant Principal Bradley Mellor C.Eng, MIET
Meet Head of Engineering and Assistant Principal Bradley Mellor C.Eng, MIET
14 May 2018 (by Sero Creative (SeroCreative))
"What excites me is the opportunity students have at the UTC. Our students are doing incredible work and I'm really proud of what they are achieving."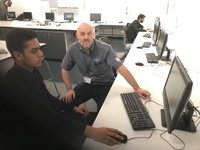 A Chartered Engineer, Bradley Mellor chose to step out of a successful career in industry and join the teaching profession after sitting on the Parent Teacher Association for his daughter's school gave him an interest in education.
An opportunity to do a teaching qualification at University of Huddersfield arose and a series of teaching posts in Barnsley followed, culminating in becoming Lead Teacher Engineering at Holy Trinity ALC in Barnsley before joining the UTC in 2017. Always pushing boundaries and looking to expand his skills, Bradley also became a STEM Technology consultant and a recommended resource developer for the Times Educational Supplement, as well as a public speaker and contributor to industry magazines.
When the opportunity to join UTC Leeds came up, it seemed the logical next step to be able to progress his passion for teaching engineering. "I had heard how the University Technical College or UTC programme was developing skills for jobs of the future, and I knew UTC Leeds wanted to be one of the best engineering UTCs in the country, so I jumped at the chance to join.
"I have not been disappointed. The facilities and employer engagement that students have here are outstanding. It's the ideal place to inspire new generations of young engineers, somewhere I can really teach 3D design and printing, Mechatronics and robotics, as well as traditional engineering skills, in the way they should be taught."
Bradley has been able to draw on his 20 years of industry experience to help students at the UTC to relate their learning to the real world. Previous roles included Continuous Improvements Manager, Mechanical Projects Manager and Senior Project Engineer in the food, automotive, chemical and building products industries. As a Continuous Improvements Manager, he introduced and managed lean manufacturing programmes, training up staff in lean management techniques, whilst in previous roles he was involved in new product design and roll out of new systems, supporting sites across the UK and Europe.
"Being able to draw on my industry experience is very helpful for working with the engineering employers. I understand their operations and what it is feasible for them to do with the UTC.
I'm currently designing a new careers and employer engagement programme which we're launching in September which will focus on how employers can support student development and destinations. We already have examples of students going into highly skilled apprenticeship jobs with our employer partners, such as Braime. In addition, employers such as Agfa, Braime, Lambert and Planned Stainless are also providing real-life business challenges for our students to work on as part of their curriculum or for their enrichment activities. We want to expand on this activity to give students as much engagement with employers as possible, going beyond the basics of what the government's new careers strategy requires.
"But it's not just about employers and apprenticeships, we are also fortunate to benefit from significant input from the University of Leeds which has a world-renowned engineering faculty, and we want to build on these opportunities as well. It's a very exciting prospect for the UTC going forward and I am delighted to be part of the leadership team here making this vision a reality."